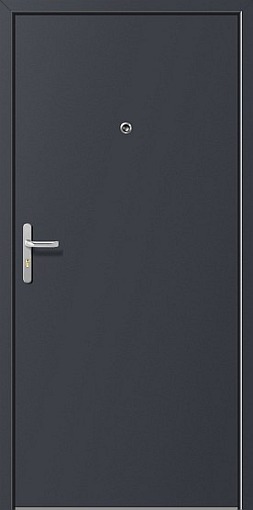 BASIC – KT1001
– glazing: none
– renolit anthracite
– stainless door handle
– peephole
The THERMO-PVC STANDARD is an increased thermal insulation (Ud = 0.7 to 0.9 W/(m2*K) product, manufactured on the basis of PVC VEKA Softline 82 system with attachment panels.
The characteristic feature of this series is its restrained styling.
Panes are mounted in the leaf without any additional decorative appliques.
FUHR multi-point locks are used for locking, in many barring configurations.
Hinges: ANUBA roller hinges.
Glazing: Four-pane package of Ug = 0,5 W/(m2*K).
Thickness of polyurethane foam in the leaf: 82 mm.
In order to increase the resistance to break-ins we offer in addition:
- 6D-C class inserts,
- anti-burglary protection of hinges,
- P4 class panes.
Maximum dimensions of the door: 1180 x 2200 mm.