Access control is mainly connected with the use of electromechanical lock catches and motor driven locks.
These solutions unite mechanical operation of locks with electronic control and at the same time guarantee high level of security against burglary.
The simplest application of these devices is opening and locking the exterior door with the use of various control units such as: entryphone, remote control, pendant, numeric keypad, fingerprint reader, etc.
More complicated applications are access control for more than one door, e.g. in an office building, where the administrator can easily change the employees' permissions, control of evacuation systems and passage sluices.
For our doors we use locks and electromechanical lock catches manufactured by the Fuhr company.
Locks are discussed elsewhere, here we present control units:
Fuhr control transmitters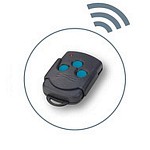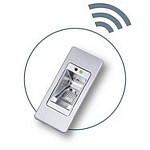 All transmitters shown above send control signals by radio waves on different channels and thus they can be used both separately as well as in combinations.
With the use of a remote control we can separately control the entry door and the garage and entry gates.
Using the keypad two doors can be operated with a single individual code. Additionally this unit has a separate channel for the doorbell.
The fingerprint reader is a modern and comfortable means of access control. The device operates on two channels controlled with different fingers and can be used optionally to open, beside the entry door, also the garage gate equipped with an additional radio receiver.
In total 200 users' fingers can be programmed in this reader's memory.
The proximity reader has similar opening options, in which case sending the opening pulse is obtained by bringing the pendant close to the reader.
The wall switch sends the pulse for opening the door wirelessly after pushing a button. It can be mounted in any place at home or in the garage.
More information here: https://www.fuhr.pl/fuhr/en/produkte/prod_tuer_881dda4.html?navid=9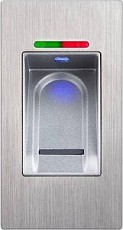 BioKey –
fingerprint reader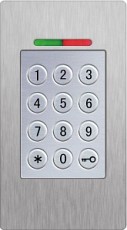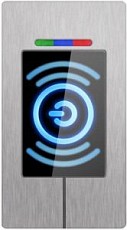 Numeric keypad
with Bluetooth function
IDENCOM device are an alternative for FUHR control transmitters. Due to lack of radio connection (wireless) they can't be
controlled on multi-channel basis from a single device and in practice they are suitable for opening a single door only.
The BioKey fingerprint reader is compatible with all popular electromechanical locks and electric lock catches.
The reader can be programmed in the Masterfinger system via the external part, without the need to use a computer or codes.
The numeric keypad with a code is available both in the basic version as well as in versions with extended functions – Premium and Premium plus.
The Basic version can programmes in the so-called Mastercode system via the external part of the keypad.
For use in companies it is recommended to choose the "Premium" version which can run up to 20 user codes.
RFID allows opening doors with cards and pendants. The RFID system allows easy and fast addition of unlimited number of users, cards, and pendants.
Idencom's RFID works with all already existing cards and pendants, e.g. employees swipe cards.
The system allows easy addition of any number of users and cards.
The numeric keypad with Bluetooth function allows opening doors with a 6 to 8 digit code. The keypad is extended to use Bluetooth.
Opening doors with Bluetooth, due to safety reasons, has been additionally protected with a requirement to enter two initial digits of the code.
More information here: http://www.idencom.com/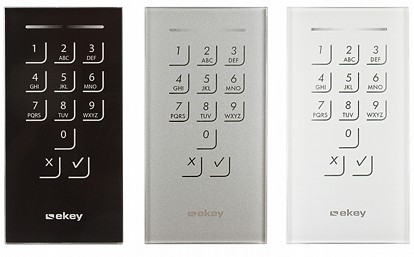 Ekey home keypad integra 2.0
colours: black, grey, white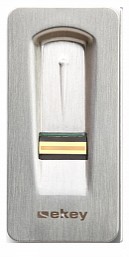 Fingerprint reader
ekey arte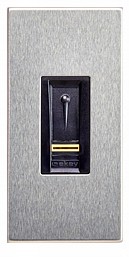 Fingerprint reader
ekey integra 2.0
Ekey control units, like IDENKOM devices, do not have radio connection with the controlled element and all connections are carried out through wires. They are perfectly suitable for controlling a single door. Creation of access systems for multiple rooms requires installation of wired network between individual readers and the control centre.
The numeric keypad has a highlighted and easy to operate touchpad whose surface is made of high-quality glass.
Ekey keypad is available in 3 colour variations.
Functions: possibility of concurrent programming of max. 99 different codes consisting of 4 to 8 digits, protection against tampering, data restoration after power failure, optical and acoustic signalling.
Ekey arte fingerprint reader was specifically constructed for single plane fixing in the door and equipped with elegant stainless steel finger area. Thanks to its small size the fingerprint reader can be properly mounted even in a door or hardware of sophisticated style.
Integra 2.0 fingerprint reader is placed in a casing of a nice, rectangular shape and modern design. The casing is available in steel grey, gold, or white. This reader is also available also with an integrated RFID function for touchless opening with a card or as a Bluetooth version, in which case all administrative processes of the fingerprint reader are carried out with the use of ekey home application.
Fingerprint readers functions: memory for 99 fingerprints, protection against tampering, data restoration after power failure.
More information here: http://www.ekey.net/