The MB-86 window-door system is a product with very good parameters that allows satisfying users' various needs.
One of the advantages of MB-86 system is also high endurance of profiles that allows building structures of large size and weight.
The structure of its profiles has 3 construction variants, depending on the requirements of heat energy saving: ST, SI+, and AERO.
On the basis of system MB-86 we also make THERMO panel doors, which offer rich aesthetic possibilities and can meet user's high expectations.
The features that influence functionality and aesthetics of constructions made in the MB-86 system:
– wide thermal dividers of new shape, allowing use of additional divider in the profile insulation zone
– two-component central seal perfectly tightens and thermally insulates the space between the leaf and the door frame
– wide range of profiles guarantees obtaining of required aesthetics and structure endurance
– glazing slats with additional sealing, available as three variants: Standard, Prestige, and Style
– profile shapes are adapted for assembling of different types of multi-point locking fittings, including also concealed hinges
– wide range of glazing allows the use of all existing types of panes, including acoustic and anti-burglary ones
– profile dewatering available in two variants: traditional and concealed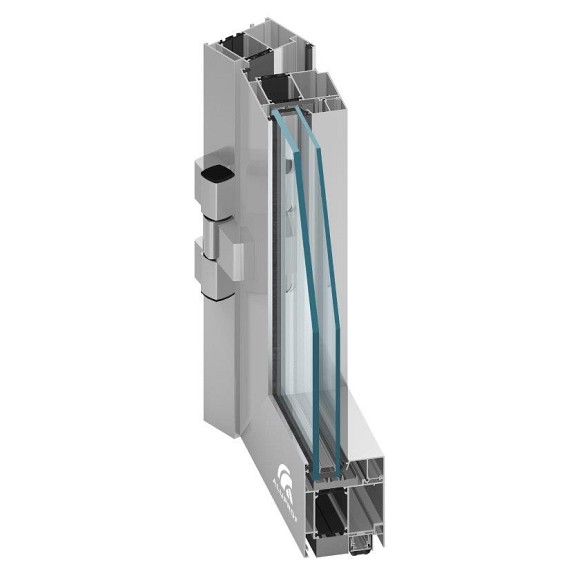 Technical parameters of the system:
Air permeability: windows: class 4, door: class 3, PN-EN 12207:2001
Water resistance: windows: class E 1500 Pa, door: class 5A (200 Pa), PN-EN 12208:2001
Wind-Load resistance: windows: class C5, door: class C1/B1, PN-EN 12210:2001
Thermal insulation (Uf): MB-86 ST: windows: from 1.39 W/(m2K), door: from 2.16 W/(m2K)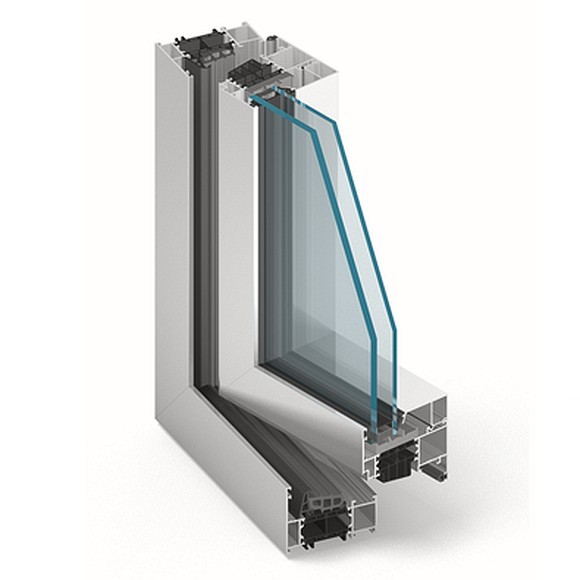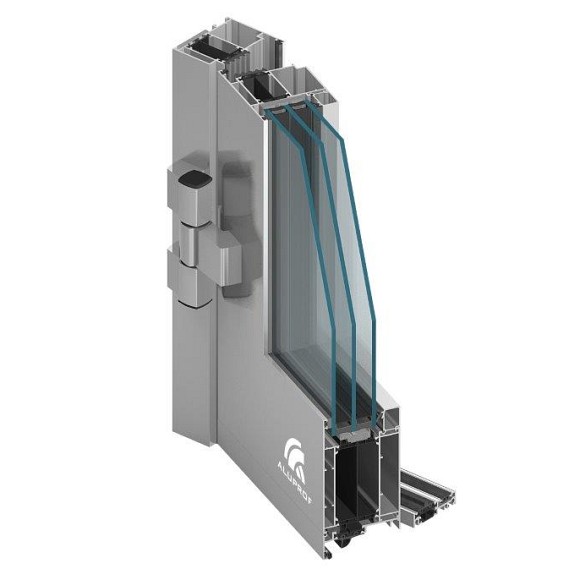 Technical parameters of the system:
Air permeability: windows: class 4, door: class 3, PN-EN 12207:2001
Water resistance: windows: class E 1500 Pa, door: class 5A (200 Pa), PN-EN 12208:2001
Wind-Load resistance: windows: class C5, door: class C1/B1, PN-EN 12210:2001
Thermal insulation (Uf): MB-86 SI+: windows: from 0.92 W/(m2K), door: from 1.76 W/(m2K), door: MB-86 SI+: from 1.49 W/(m2K)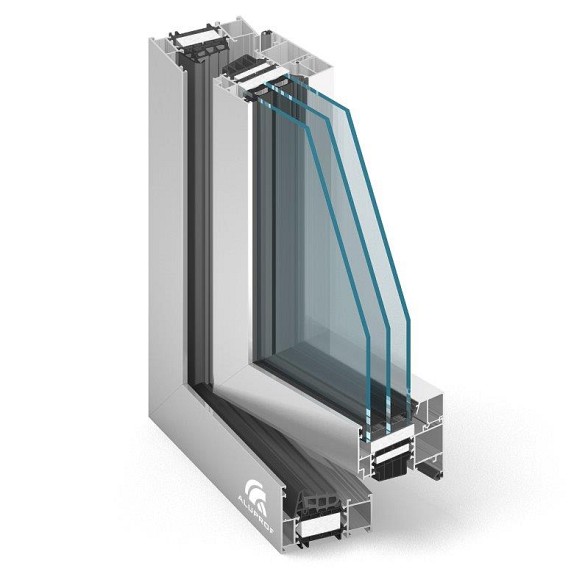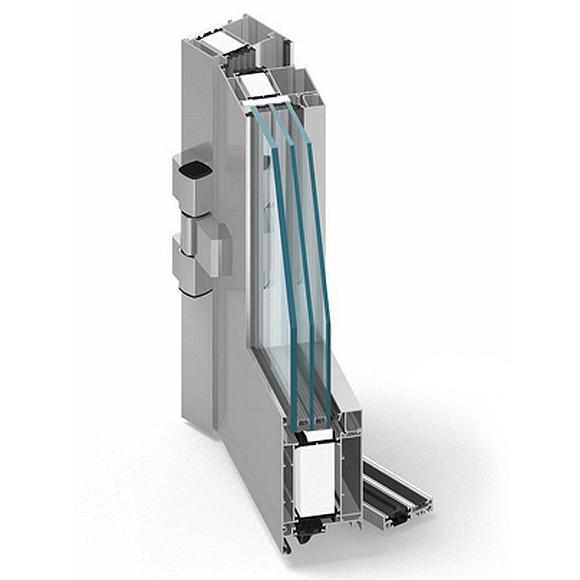 Technical parameters of the system:
Air permeability: windows: class 4, door: class 3, PN-EN 12207:2001
Water resistance: windows: class E 1500 Pa, door: class 5A (200 Pa), PN-EN 12208:2001
Wind-Load resistance: windows: class C5, door: class C1/B1, PN-EN 12210:2001
Thermal insulation (Uf): MB-86 AERO: windows: from 0.57 W/(m2K), door: from 1.22 W/(m2K)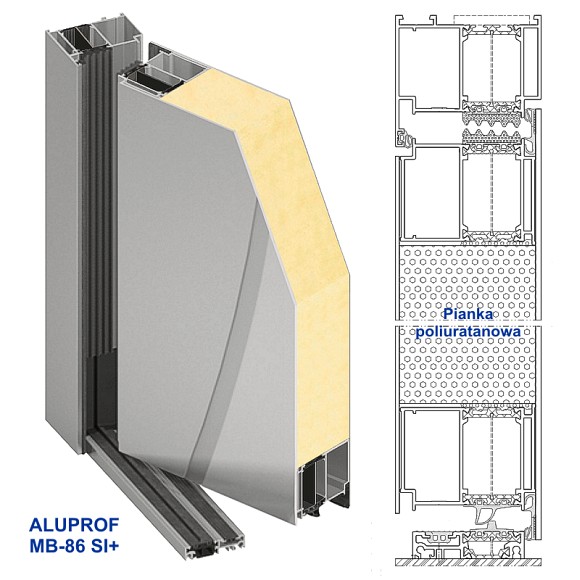 MB-86 SI+ door
2-sided trim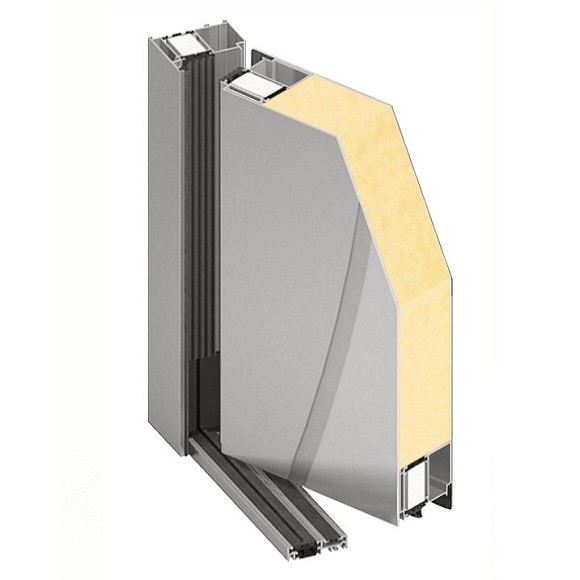 MB-86 AERO doors
2-sided trim
Technical parameters of THERMO panel doors:
Air permeability: class 3, PN-EN 12207:2001
Water resistance: up to class 7A (300 Pa), PN-EN 12208:2001
Wind-Load resistance: from class C4/B5, PN-EN 12210:2001
Thermal insulation (Ud): from 0.63 W/m2K (for MB-86 Aero with a 77 mm panel)
Comparison of variants of the MB-86 system